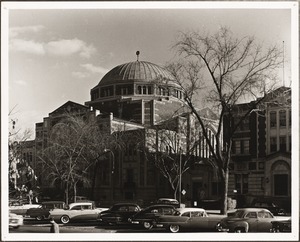 Title
Temple Ohabei Shalom
Type of Resource
image
Abstract/Description
Title from item or accompanying materials.
Date from item.
Temple Ohabei Shalom on Beacon Street. Cars are parked along the trolley tracks on Beacon Street.
Subjects and keywords
Synagogues
Streets. Beacon Street
Temple Ohabei Shalom (Brookline, Mass.)
Format
Photographs
Photographic prints
Rights
This work is licensed for use under a Creative Commons Attribution Non-Commercial No Derivatives License (CC BY-NC-ND).
Rights status not evaluated.
Permanent URL
Identifier
Local other: S2Jb